What We Do
What We Are Doing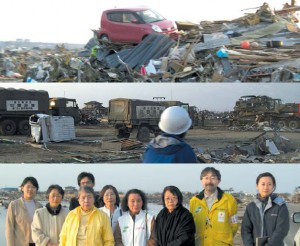 The 3/11/2011 disaster had a huge effect – not only in the Tohoku region, but throughout Japan. The weaknesses in Japan's disaster response policy, including aspects involving gender issues, were exposed. Because of the existence of such problems in social structure, when disaster struck, from a gender perspective, various contradictions, inequalities, and distortions because apparent.
On June 11, three months after the quake, our network hosted a symposium in Tokyo which drew hundreds of people from across Japan and from all sectors of society. The participants resolved that the Japanese government should make gender perspective fundamental to all aspects of disaster risk reduction (DRR) policy. With this as our mandate, our network is continuing to present demands for improvements.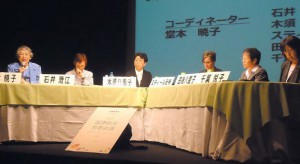 ---
What We Are Working Towards
Moving towards HFA2, we hosted a roundtable in Sendai City on June 14, 2014. Participants drew up the "Sendai Call to Action on Gender and Diversity in DRR", which was transmitted to Bangkok.
We then actively took part in the 6th Asian Ministerial Conference (6AMCDRR) in Bangkok, held June 23-26. Several of the points of focus from the Sendai call to action were evaluated highly by other participants, and were included in the final list of recommendations – which was forwarded to ISDR for the July PrepCom.
During the 3rd World Conference for Disaster Risk Reduction (March, 2015), JWNDRR will host a related international conference as a side event.
All of us must recognize that what we want for women is just one facet of what truly resilient societies represent. Such societies are inclusive and cohosive, and treat the full spectrum of identities – including women, seniors, minorities and migrants – with dignity and respect. To get there, we need a paradigm shift in global governance – from systems dominated by exclusive groups of elite men, to a more representative and inclusive future.
Chagnge is possible – no doubt about it. But is won't happen unless women step forward, and also are empowered by laws to participate in decision-making to lead the way.
---
A World Conference Hosted by a City with a Female Mayor
At the time of the Great Earthquake of 2011, the mayor of Sendai was a woman – Ms. Emiko Okuyama. Mayor Okuyama has shown good leadership, and is now widely respected for her work on behalf of Sendai's reconstruction. Her city will host the 3rd World Conference for DRR, and we are very hopeful that the conference there will be a success.